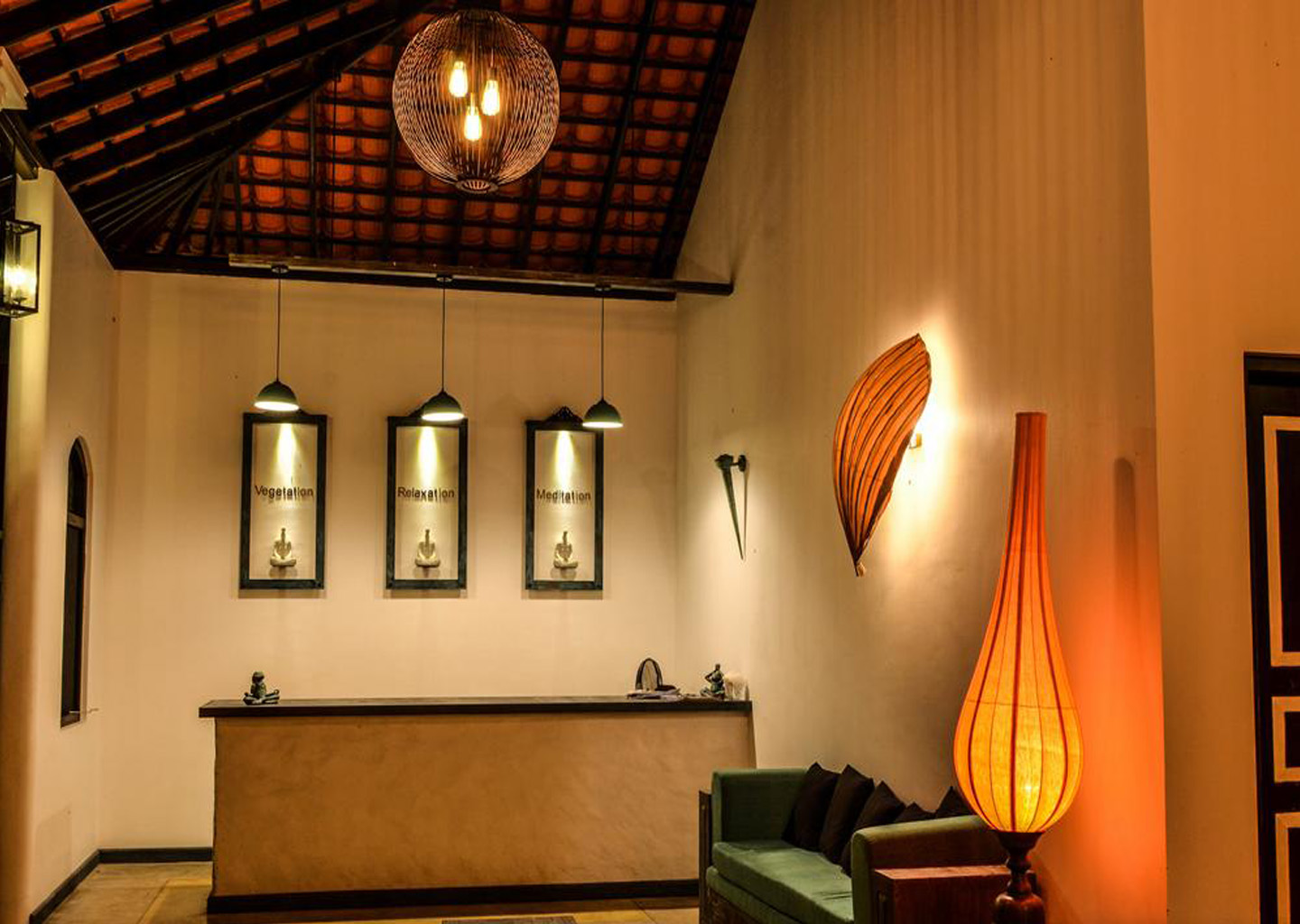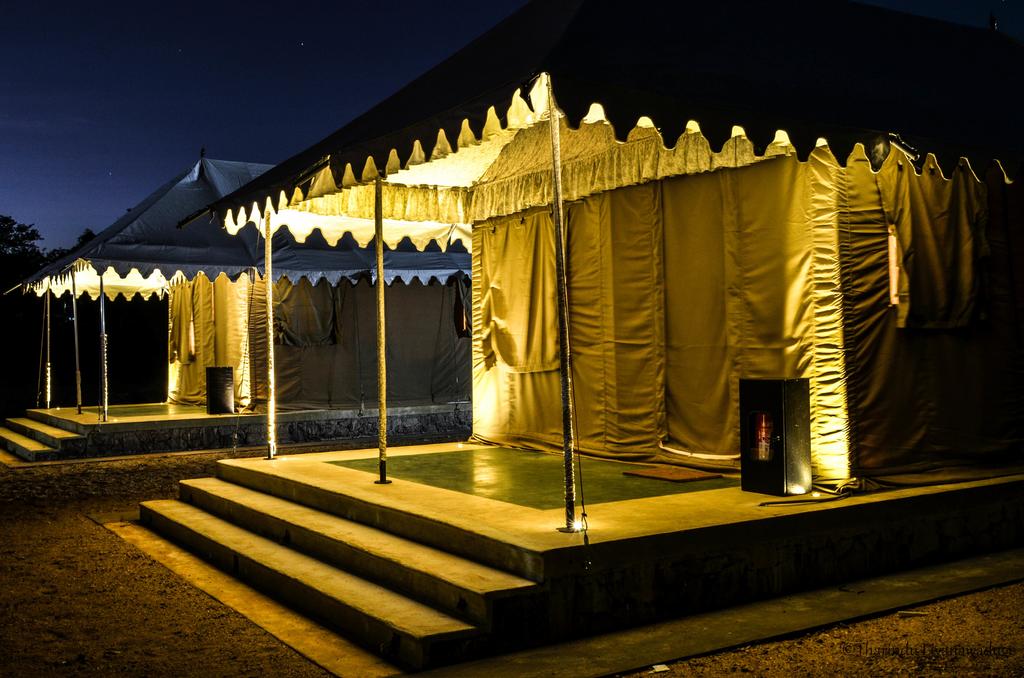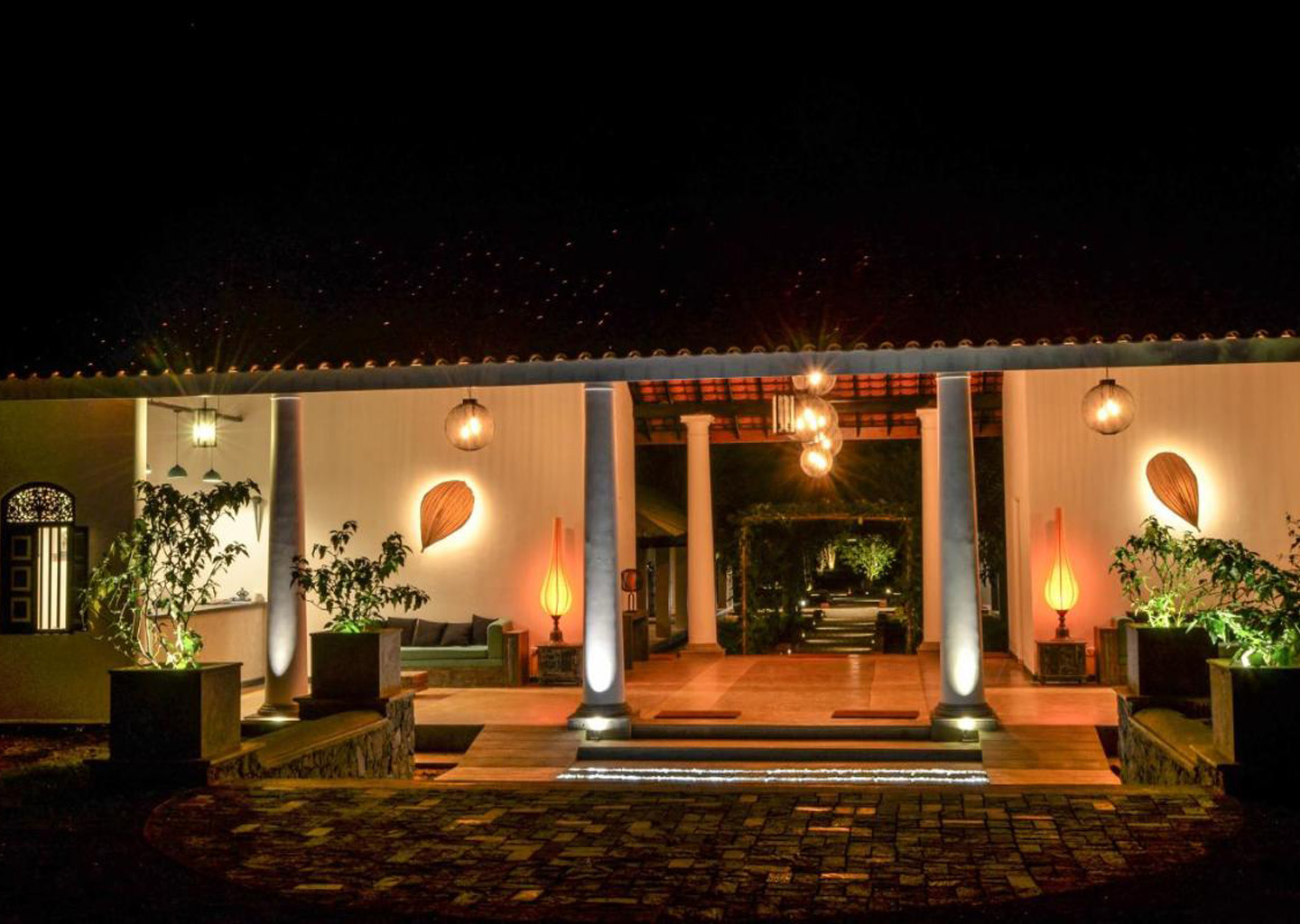 Rangiri Dambulla Resort is a safe and secure certified hotet - Level One

Following Category guests are entitled in level one hotel
Foreigners with tourists visa
Sri Lankans who hold dual citizenship
Sri lankan spouse or close family members(Child,Mother,Father) Who is carrying a sri Lankan passport accompanying a foreign National.
Foreign passport holders with a valid residence visa.
Foreign passport holders with valid multiple entry visa ( specially sri lankans holding USA passports with a valid multiple entry visa to sri lanka.
Kingdom of Nature serves on a palanquin
Rangiri Dambulla Resort, owned by LSR Group is a green and glamorous luxury resort situated in Dambulla within the Cultural Triangle and in the vicinity of World Heritage Site, Rangiri Dambulla Raja Maha Viharaya, globally known as "Golden Temple". LSR has created this serene resort in keeping with the theme "Vegetation, Relaxation & Meditation". It is a unique resort located in a green environment enriched with edible landscaping.


In the Resort, you will be totally detached from the crowded, busy, polluted and noisy city life. The natural charm created by vegetation and green environment itself is the most exquisite, unique and salient feature of the Resort which connects you to the nature and revitalize your mind and body through calm environment. The Resort which combines comforts, conveniences and modern facilities with the warmth and personalized attention of traditional Sri Lankan hospitality invite you to experience the excellence of edible landscaping, vegetation and relaxation.
The resort is spread over 13 acres of land and offers 06 Luxury Chalets 18 Luxury Swiss Cottage Tents and 02 Luxury Villas which are spacious, well furnished and air conditioned to ensure comfortable and memorable stay for you. All the units are aesthetically done with elegant interiors, antique furniture and modern amenities. Other facilities available in the Resort includes full size swimming pool and a toddler's pool for kids with a large deck, open restaurant, spacious and comfortable lobby beautifully furnished with antique furniture, open bar, ample vehicle parking facilities etc.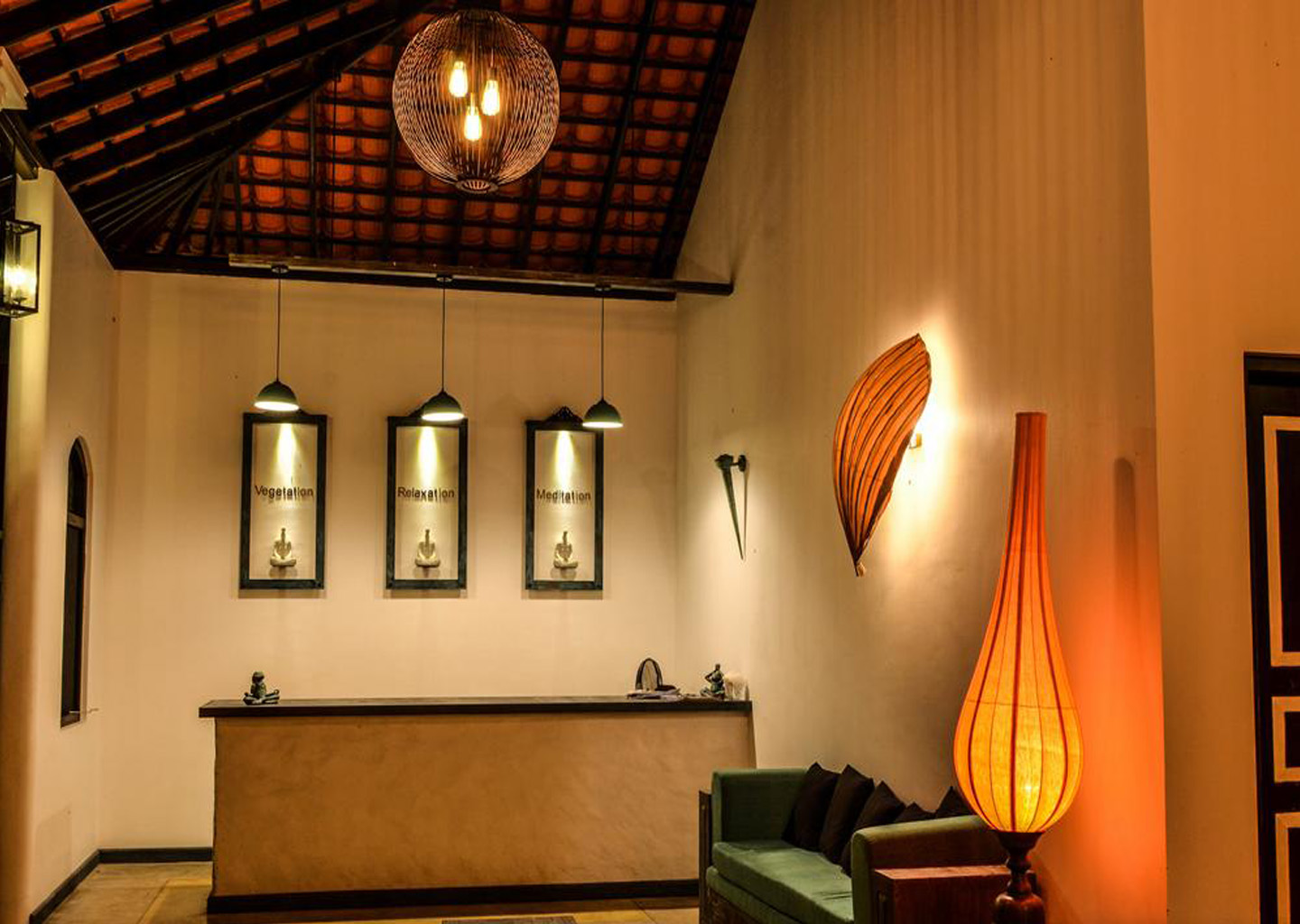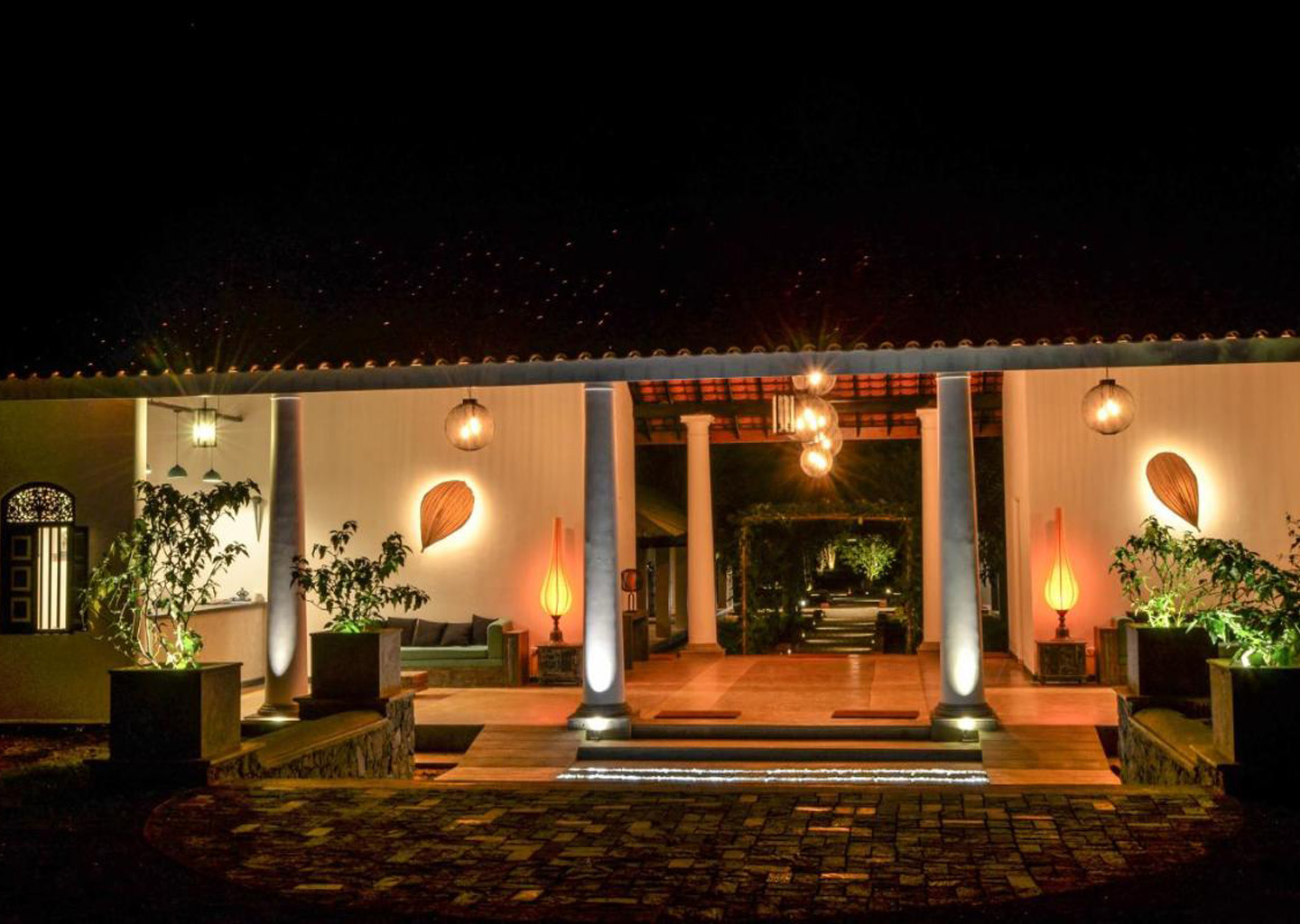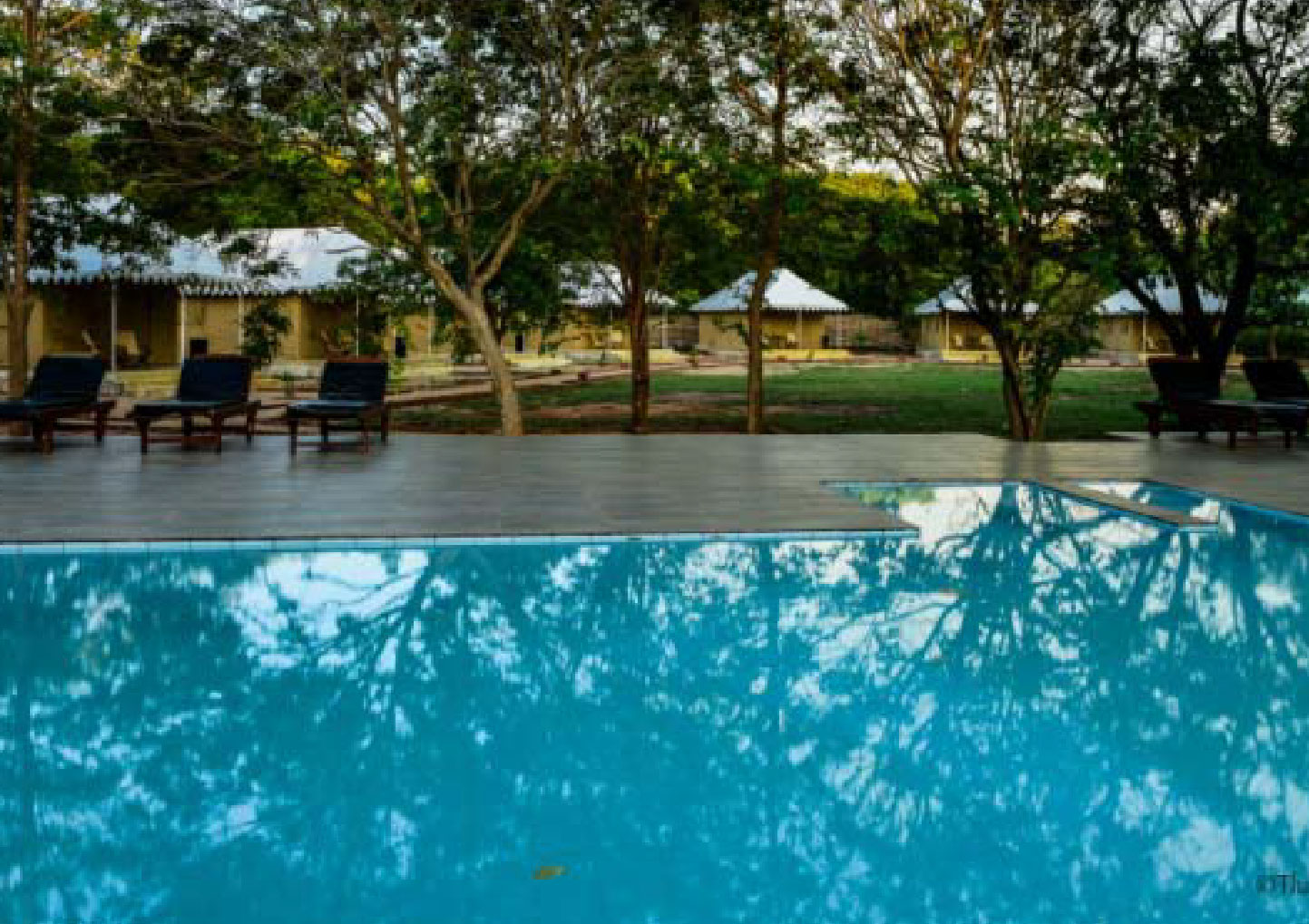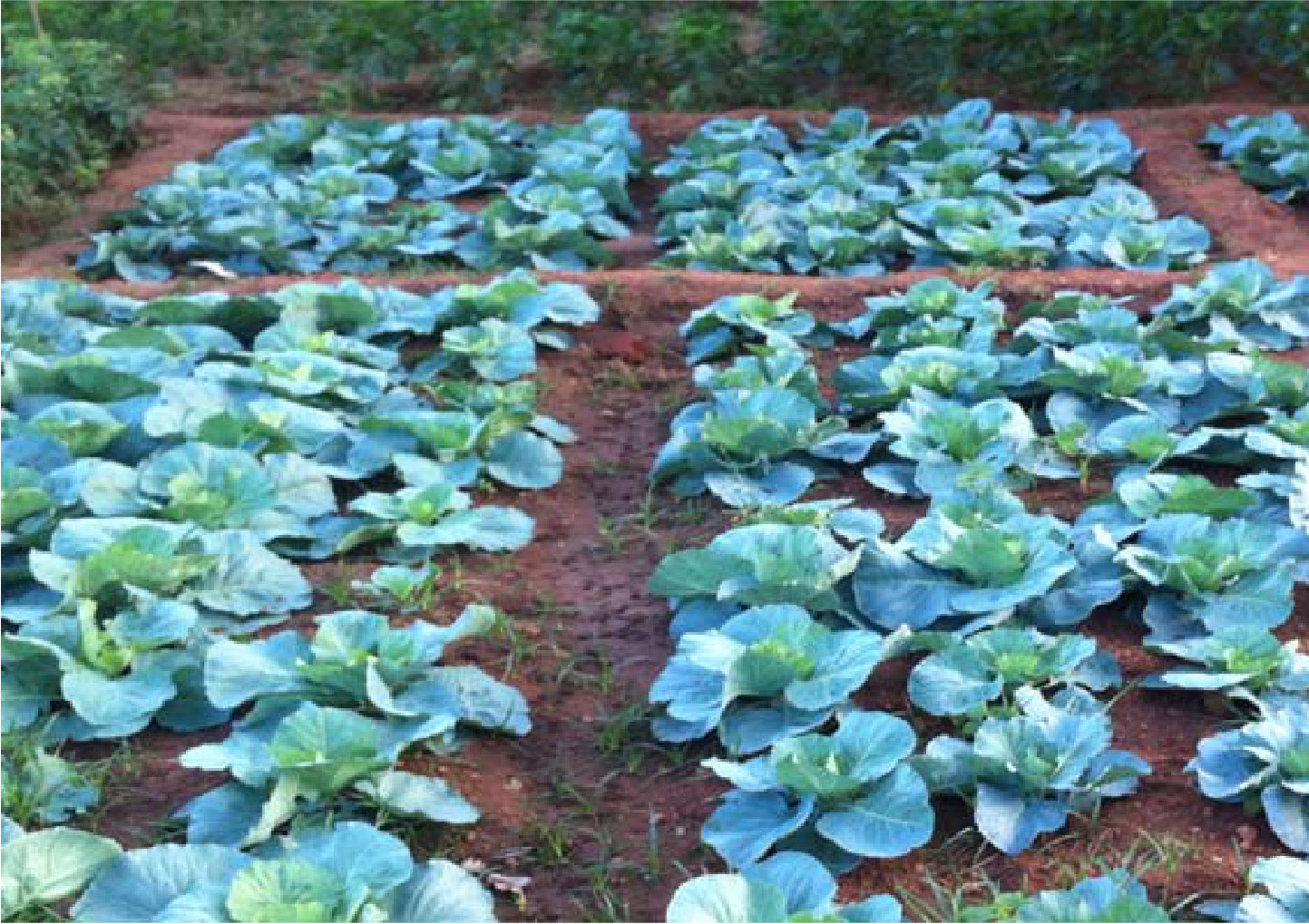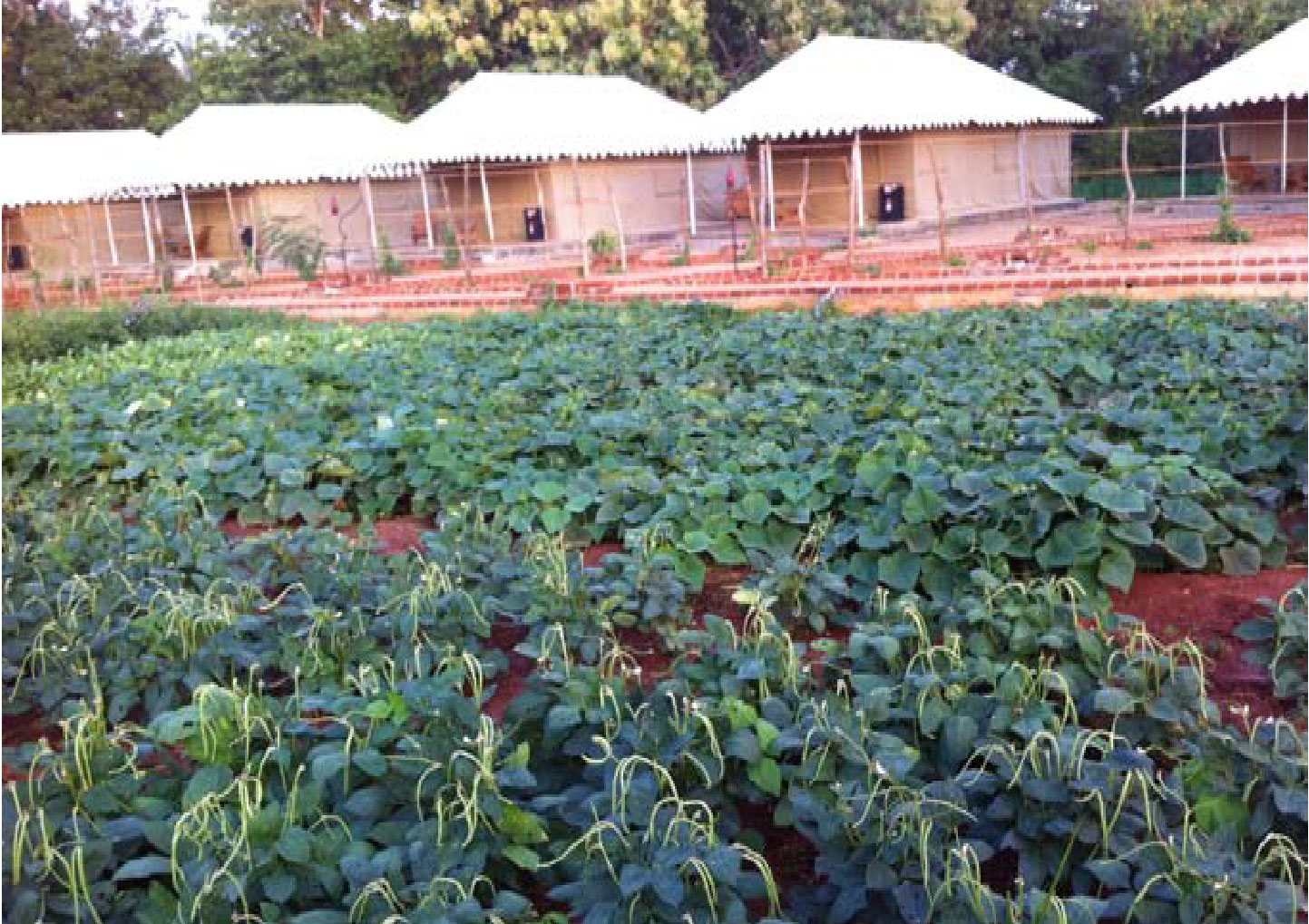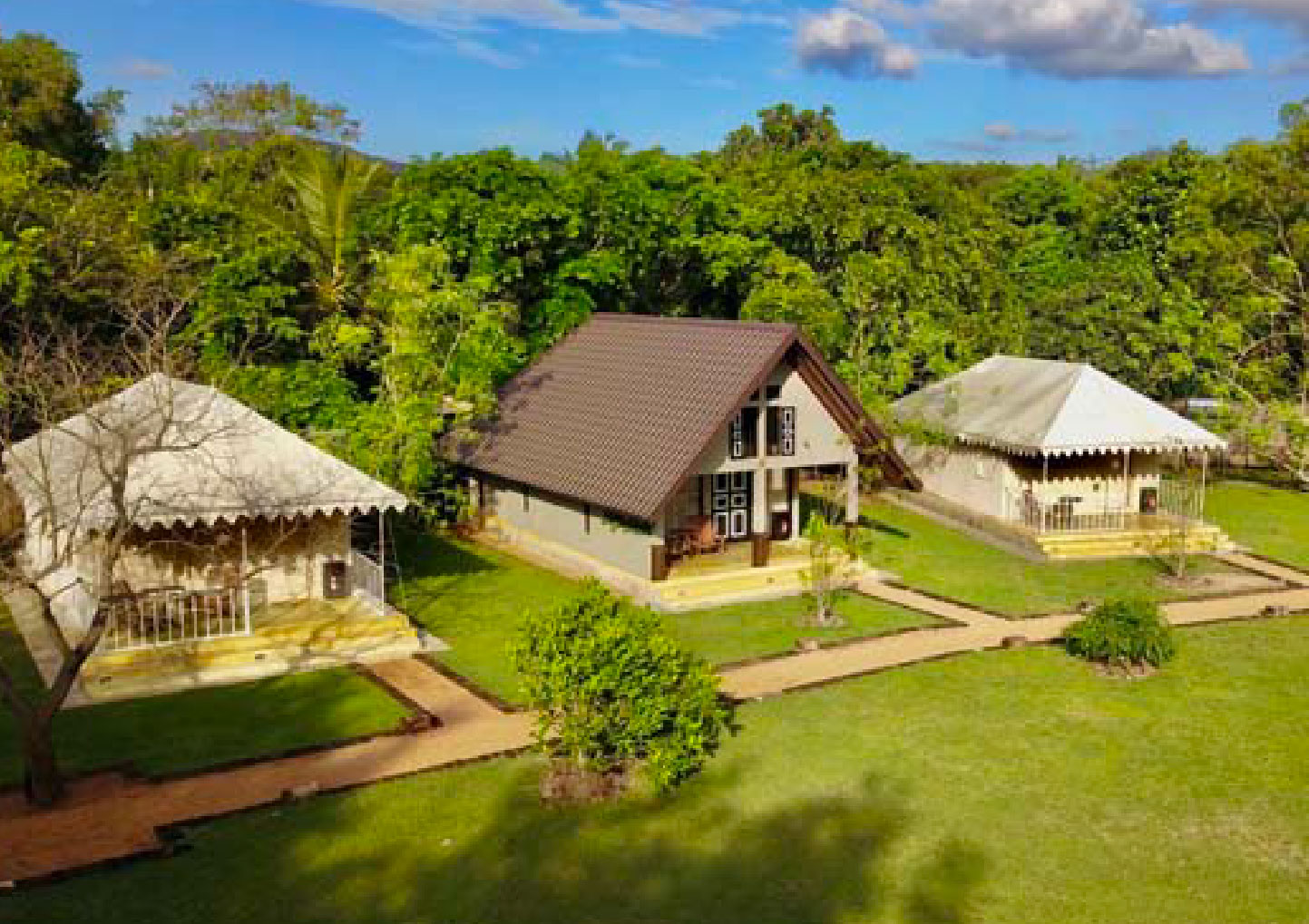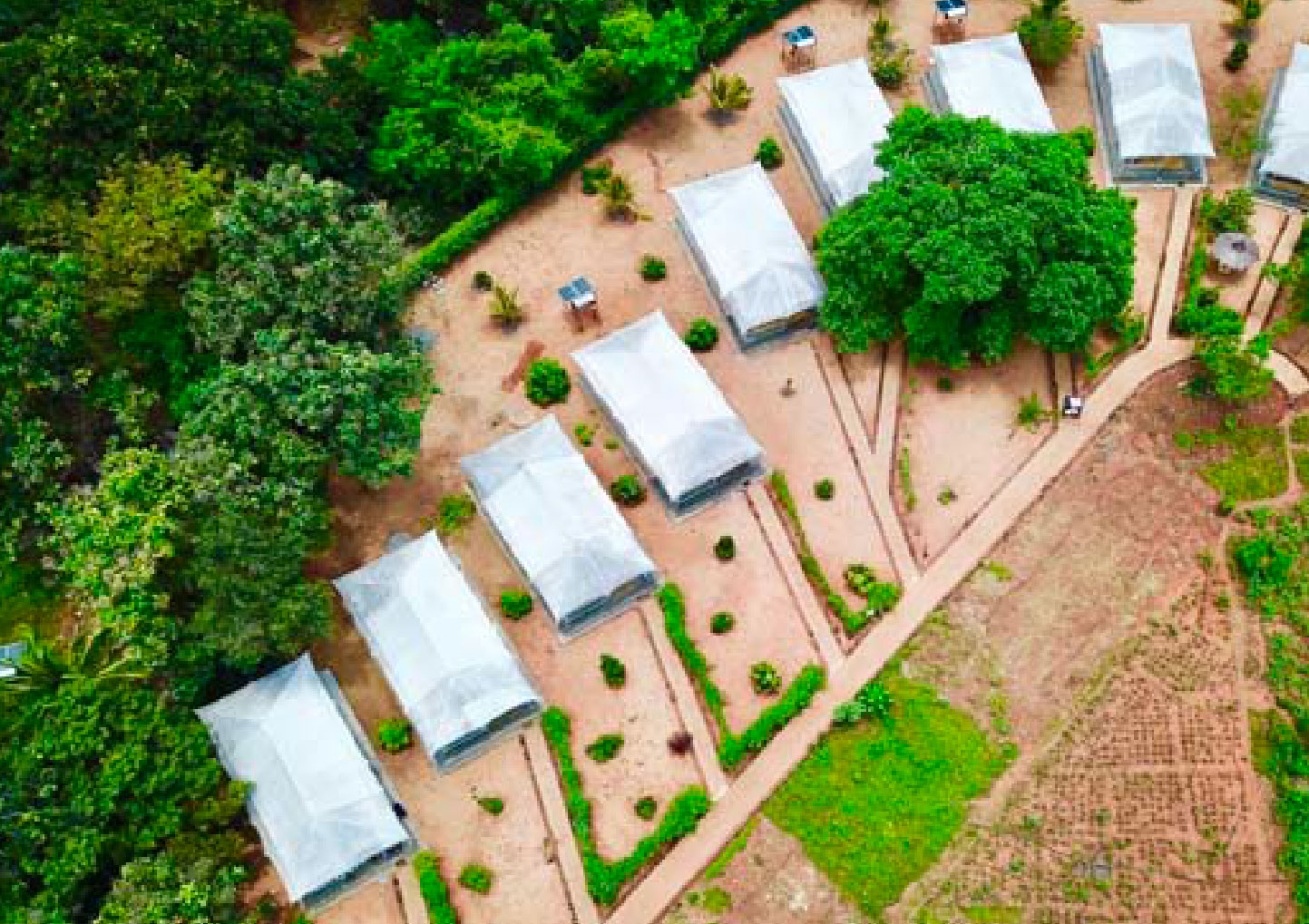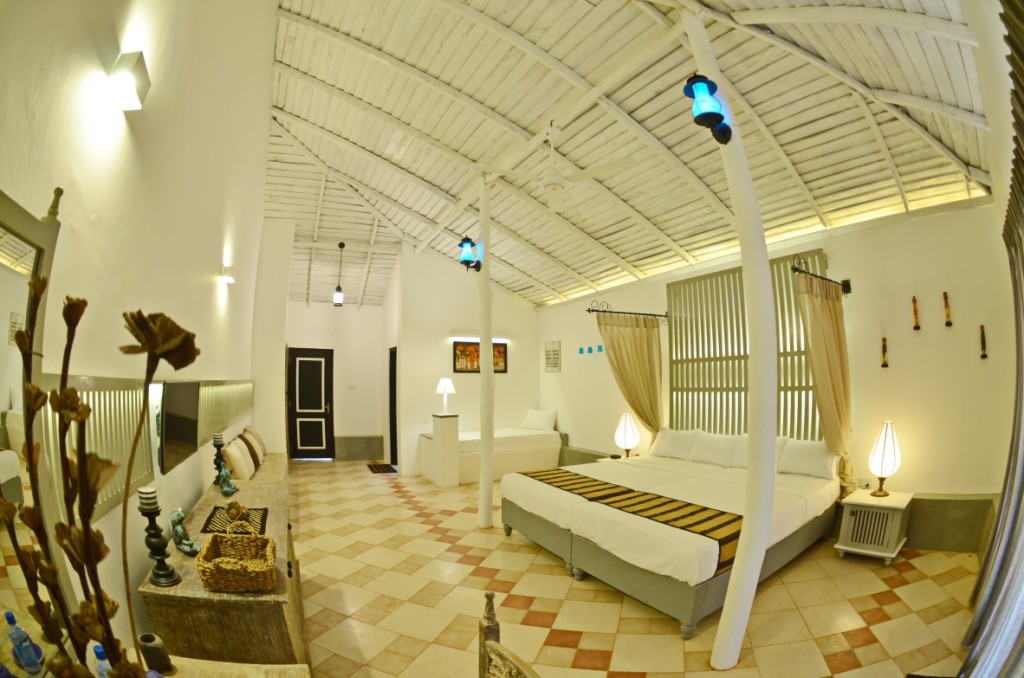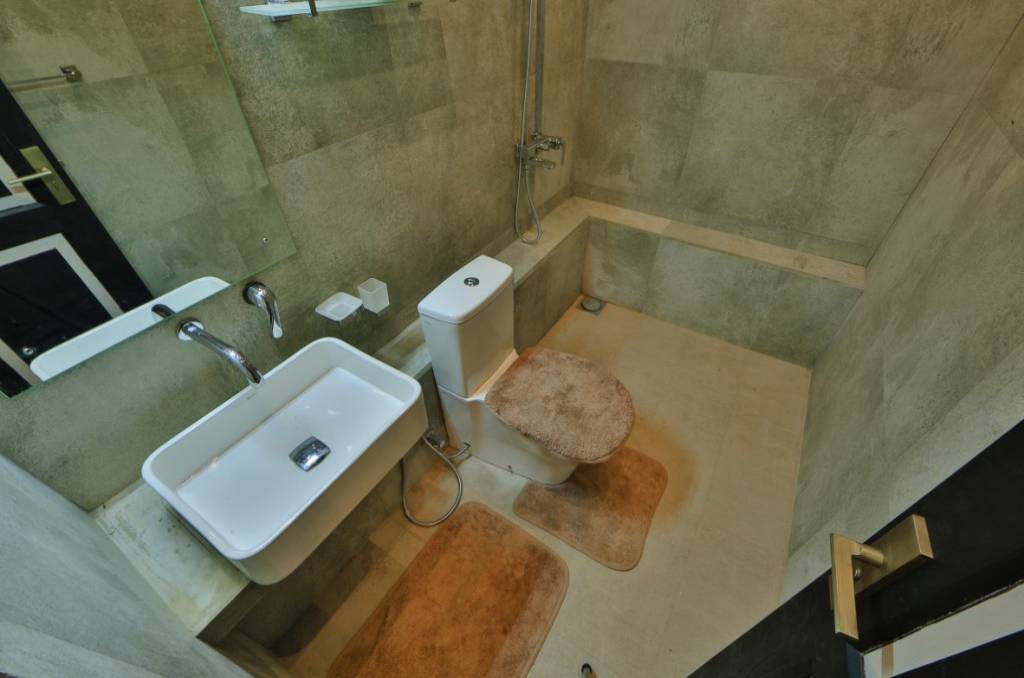 LUXURY SWISS COTTAGE TENTS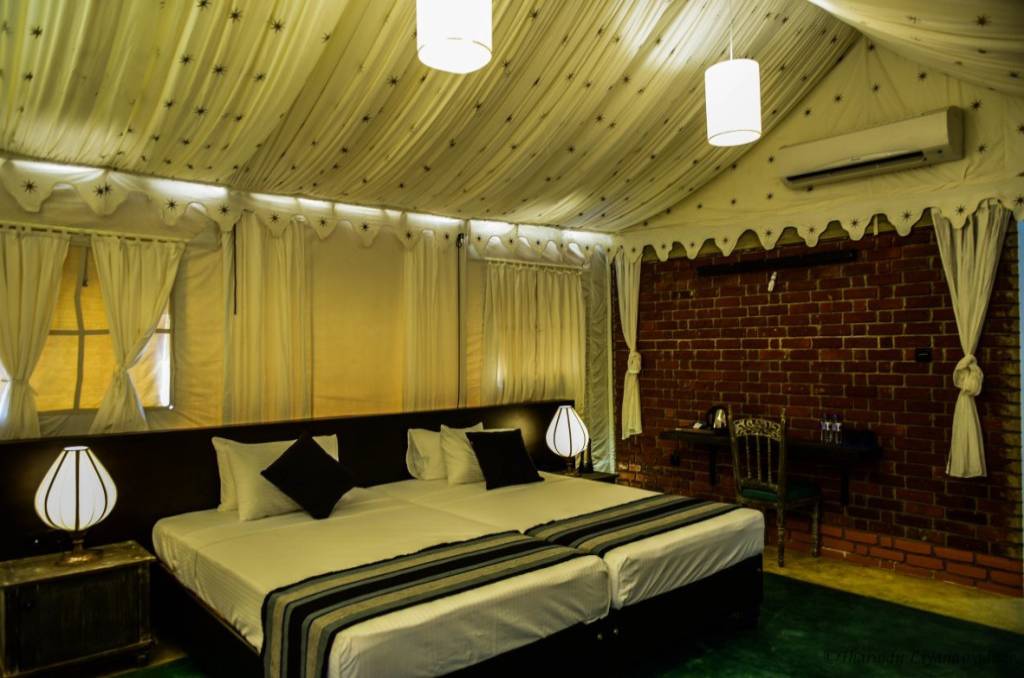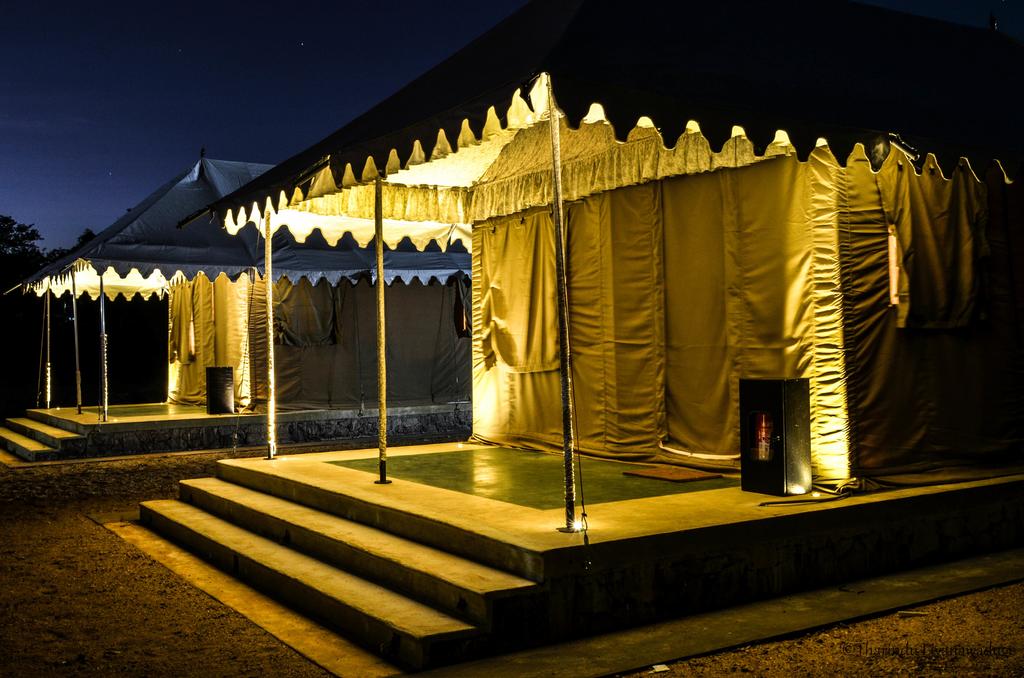 Out of nineteen Luxury Swiss Cottages, eight are erected in a semi circle around the large green compound to offer picturesque view of the swimming pool and the vegetation. Twelve cottages are located overlooking our own green vegetable yard and vegetation. These cottages are extremely luxurious with traditional well designed furniture consist of king size beds, dressing table, writing table, bed side cupboards, wall cupboard and electric lamps including LED ground flood lights that light tents interior and verandahs beautifully. The guests who do not use air conditioners can use the windows with pull up flaps that allow fresh air and light to come through. Permanent insect netting enables the windows to keep the unwelcomed visitors out from the cottages.
These luxury cottages are of pleasing medley of styles and spacious. Each unit offers a bedroom area of 255 sq.ft, attached bathroom area of 80 sq.ft, utility area of 40 sq.ft and open verandah of 105 sq.ft. totaling to 480 sq.ft.
The resort offers 19 Luxury Swiss Cottage Tents. Each unit is air-conditioned, spacious and well-furnished to ensure a comfortable and memorable stay. These Units are aesthetically done in keeping with the theme "Vegetation, Relaxation and Meditation" completed with classy interiors and unique furniture with each tent having picturesque view overlooking the pool, green garden and the vegetable yard. The cottages are aluminium framed and made out of super fine durable all weather material with 100% water proofing with roll up windows and doors. They have been erected on raised solid platforms and sealed from bottom to the roof to ensure that insects and other small creatures do not creep in. Well appointed attached bathrooms with running hot and cold water are fully tiled and fitted with modern luxury fixtures and fittings to ensure hygiene factor. The best part of the cottages is that they are very safe and secure as they are lockable from both in and out. The interior walls and ceiling of the cottages with attractive designs are innovatively crafted in a colorful way with the highest quality fixtures and the most comfortable furnishings. Every cottage is fully air conditioned and beautifully furnished with antique furniture with other modern amenities such as Wi-Fi facility, mini fridge, TV, coffee / tea making facility etc.

Children Playground

Children Pool

Cot/Crib

Restaurant

Wi-Fi

Tea/Coffee making

Hot and Cold Water

Air conditioning


Hair Dryer

Shaver Point
Shower

Room Service

Credit Cards Accepted

Disabled Access

Garden Space

Fan

TV

Mini fridge

In-room Safe

Non-smoking Rooms

Iron & Ironing Board
(On request)

Bicycles

Electric Power
220 to 240V
Vegetable Garden & Blissful Relaxation
Each cottage has its own private verandah/sit out area for relaxing in pleasant mornings & evenings when you wish to sip a cup of steaming tea/coffee while enjoying nature through views of green garden, vegetation, mountains, vegetable cultivation and listening to melodious bird songs..
At the end of the day whether you are exhausted or refreshed, take a walk to our "Eat Your Yard" organic vegetable cultivation and watch the process of growing different kind of vegetables and fruits. You can pluck your choice of fresh vegetables from the yard and get our kitchen staff to turn it to a delicious dish. You will experience the goodness, natural taste and freshness of our own vegetables. If you still have not had enough for the day, we encourage you to take time to wonder at the magical night sky unhindered by pollution and enjoy stargazing before you go to sleep.
Rangiri Dambulla Resort has the privilege of setting up a well planned herb garden within the resort under the name "Deegayu Herb Garden" where we have planted more than 350 species of rare and important traditional herbal plants of high medicinal values. Gradually, we are increasing this number by planting more rare species.
The main purpose of establishing the herb garden is to impart some knowledge to our guests on valuable herbal plants grown and used in Sri Lanka for 3000 years old Ayurvedic Treatment system and their medicinal values in treatment for various ailments. The herb garden also serves a road map for the guests to have some awareness on how to establish a small home garden with herbal plants.
First uniqueness of our herb garden is the display of botanical names and their medicinal values in front of each plant. Second uniqueness is the "Raw Herb Display" unit where we display more than 70 different varieties of raw herbs and herbal powders. A booklet on medicinal values and plant details of these raw herbs are available in the garden itself for reference. Third uniqueness is the display of ancient utensils which are more than 120 years old and used to make herbal medicines and oils. There is a small Herbalism Library where you can read herbal medicine books while relaxing on a swinging bed.
In keeping with our theme "Vegetation, Relaxation & Meditation", the resort has established a Meditation Centre in a calm and peaceful enclave. Living in the modern world, you will constantly be racing the whole day. Before you start the day's tour in the morning or after finishing your tour in the evening, step into "Damba Arana Mind Therapy Meditation Enclave" and spend a few minutes sitting on specially designed seats or walking on meditation paths focusing on breath, your body's sensations and things around you. It will relieve stress and help you to relax and achieve many benefits. Most simply, sitting for just a few minutes of meditation in our relaxed and calm Meditation Enclave will be an effective mind therapy for you to have mindfulness and oasis of calm and relaxation.
Get to know your night sky & Stargazing
The resort night sky is remarkably free of light and other pollution giving you an amazing opportunity to view the stunning constellations of stars and twinkling stars including strange moving objects across the sky. Get to know your night sky simply by looking up with your naked eye. There are many things to be seen in the night sky with the unaided eye. You can start by locating a few constellations, and soon you will be pointing out planets, galaxies and star clusters. You can enjoy stargazing by staying out in our garden or in vegetable cultivation.